Lagos, Nigeria − As Paga, Nigeria's leading Mobile Payments service celebrates its 5th anniversary, founder & CEO Tayo Oviosu made the announcement that the company had acquired a new private investor − former Chairman of Goldman Sachs Asset Management and Chief Economist, Jim O'Neill.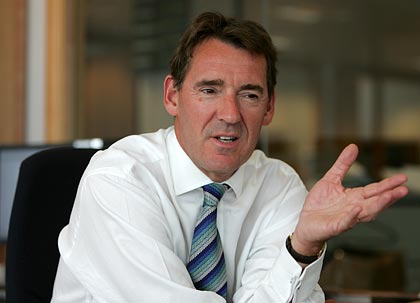 Jim O'Neill coined the "BRIC" acronym in 2001, which was derived from his thesis that Brazil, Russia, India and China would dominate growth in emerging markets; O'Neill first became interested in Paga when he interviewed Oviosu as part of a series on BBC radio discussing the MINT group − a new acronym O'Neill coined to represent Mexico, Indonesia, Nigeria, Turkey; the next set of countries that he believes will be the growth markets that will shape the world's economy in the coming decades.
A firm believer in Nigeria's potential "...to be a spectacular economic success" O'Neill is confident that the entrepreneurial abilities of the countries younger demographic will be a catalyst for growth over the next 20 years. And that indigenous startups, such as Paga, who are focused on a key sector − payments, will be the major drivers of growth.
On his decision to invest in Paga, O'Neill said..."On meeting Tayo and understanding his vision for Paga it was very obvious that we both shared the belief that with the right approach Nigeria possessed the potential for huge economic growth. It is clear to me that Nigeria, Africa's largest economy, needs payment systems that work for both businesses and individuals for her to reach her potential. Paga delivers greater convenience to businesses and individuals whether they are banked or un−banked. I have chosen to invest in Paga because the team has demonstrated their ability to execute on a bold vision that can have catalytic impact. It is an exciting time for Nigeria and I believe in Tayo and the team to achieve their bold vision to become the number one way to pay and get paid in Nigeria."
Founded in 2009, Paga commenced operations with a mission to "Transform lives by delivering innovative and universal access to financial services". Since receiving its full operational license from the CBN in February 2011, Paga allows businesses or individuals to send money to anyone with a phone number, send money to any bank account, pay merchants, and buy airtime. Customers can also receive Western Union remittances from anywhere in the world on their Paga account. Over 1.3 million individuals and 1,350 businesses use Paga to pay or get paid. The company currently has a network of over 4,500 agents in 29 states.
Commenting on its newest investor, Paga Founder & CEO, Tayo Oviosu said "We are absolutely thrilled that a leading growth investor like Jim O'Neill has spotted Paga's potential to transform the lives of millions of Nigerians by delivering the best and most convenient payment system for both businesses and individuals. Jim's investment is a testament to the great work of our 205−person team. We are honoured to have Jim as a partner and we will continue to work tirelessly until Paga is the defacto way to pay or get paid in Nigeria."