Lagos, Nigeria −Today, Paga announced it has reached one million users! This achievement is a historic one as Paga is the first mobile payment company in Nigeria to achieve the one million user milestone.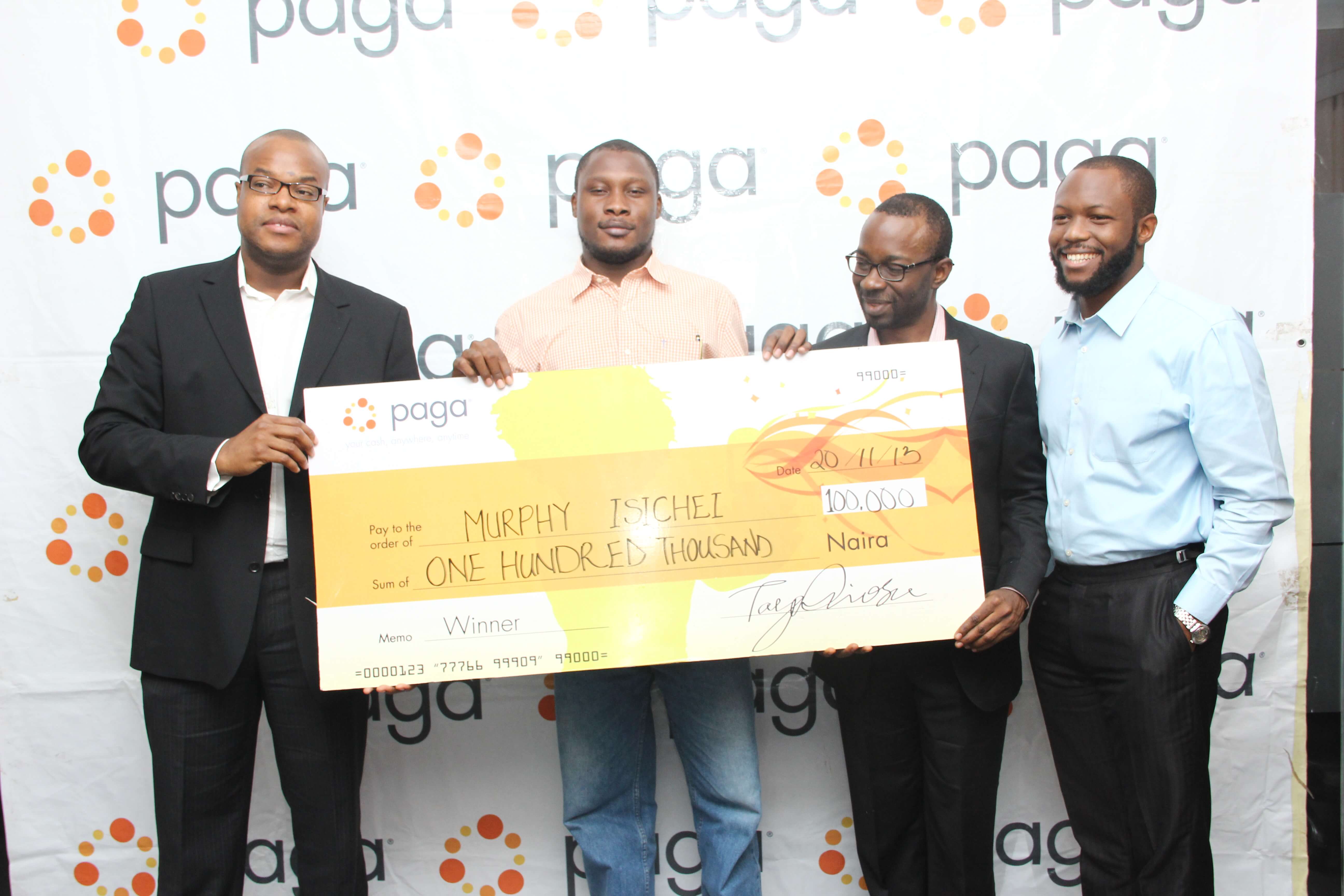 Established in 2009 by Founder and CEO, Tayo Oviosu and Co-Founder, Jay Alabraba, the indigenous company whose initial set of products were targeted to the critical needs of Nigeria's growing cashless economy has shown remarkable growth in an industry plagued with rumours of non-performance.
Speaking on the company's most recent milestone, Jay Alabraba said :
"Paga's reaching one million users is a noteworthy achievement not just for Paga but for the entire industry and the CBN, whose financial inclusion and cashless economy vision we whole-heartedly support. It confirms the significant growth prospects for mobile payments in Nigeria and the country's willingness to key into the convenience that platforms like Paga provide.

We are proud of the achievement but building sheer numbers has never been Paga's goal. Our goal is to bring efficient payment systems to all Nigerians − banked or unbanked − and deliver low cost banking services to the mass market.Through our agent network, Paga will continue to educate and empower communities across the country by providing convenient access to financial services."
Since receiving its operational license in 2011, Paga, working within the CBN's bank−led mobile payments model has become the fastest growing mobile payments company in the country and indeed Africa. A clear industry front−runner, the company's reports show over 4.4 million transactions worth over N47 billion processed in just 2 years. Paga also reports a 33 % active user rate, which is higher than industry norm.
In an industry many still claim is struggling to find its footing, Dara Owolabi, Chairman of The Association of Licensed Mobile Payment Operators ( ALMPO ) , welcomed the news of Paga's latest achievement, as the first mobile payments company to acquire 1 million users, with optimism for the future of mobile payments :
"The entire industry congratulates Paga as it sits on the brink of a new chapter. The topic of Mobile payment adoption in Nigeria tends to elicit a somewhat mixed reaction in terms of real−life application but we are happy to see the numbers starting to paint a very different picture. More and more the value of the service is being validated by growing industry figures, proving that the bank led model chosen by the CBN is working and is the best way forward for Nigeria. It also shows that Nigerians are than ready and eager to adopt new payment channels."
Commenting on the achievement, Paga Founder & CEO, Tayo Oviosu, said :
"Reaching 1 million users in just 2 years is fantastic ! Knowing that every minute 12 Nigerians get their payment problems solved by using Paga excites our team. It has taken teamwork and partnerships to get here. I am grateful to our over 160−person team, our investors who believed in us and provided the funding to execute our plans, our agents who are the lifeblood of Paga, and our business partners. Most importantly I am humbled and grateful for the willingness of the Nigerian people to trust in our promise to provide them with stress free access to their cash, anywhere, anytime. We will not rest until the day when any Nigerian wants to pay for anything or give someone money and the first solution is 'Just Paga it ! '

The support of the CBN has also been invaluable in helping us keep that promise. From the approval of our license to their steadfast approach in supporting the bank−led model despite immense pressure from several fronts to drift towards a Telco based structure for mobile payments. We wholeheartedly support CBN's vision of enhancing the Nigeria's economic growth by deepening financial inclusion. As we celebrate today, we are proud to say we have the numbers in value, transactions and users to prove that mobile payments under a bank led model does work.

The continued growth and success of the industry hinges on the ability of all stakeholders to work together. For Paga, our focus remains the same − to deliver simple to use payment solutions and low cost banking services to every community, every individual nationwide...banked or unbanked."
With constant product innovation ; a rapidly growing team spread across the country ; 800 + merchants ; over 3,500 agents in 150 cities / town in 25 states nationwide ; and 12 people transacting on Paga every minute ; 1 million users is definitely only the beginning for this team of passionate young Nigerians determined to tackle an issue critical to Nigeria's development − the availability of efficient payments and banking services for all.